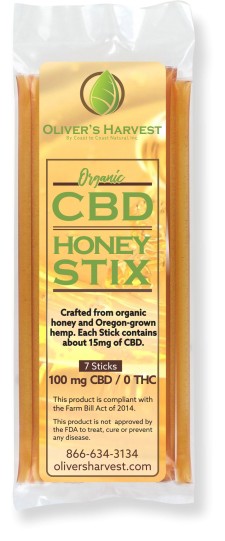 WELLINGTON, Fla., February 14, 2019 (Newswire.com) - Coast to Coast Natural, Inc. announces the long-awaited arrival of its Oliver's Harvest Honey Stix, adding to its full line of THC-free products. Oliver's Harvest has immediate availability of the new Honey Stix on its website, www.OliversHarvest.com.
Composed of organic, US-grown honey and CBD isolate from Oregon, Oliver's Harvest Honey Stix are carefully crafted and contain zero THC. These non-psychoactive treats are delicious on their own or can be added to food and beverages as a natural sweetener. Best of all, Oliver's Harvest Honey Stix are third-party laboratory tested for quality, safety, and potency, so buyers know they are getting a superior, safe, organic product.
Honey Stix are not only sweet and delicious but also promote overall health in your body, just like all of the other Oliver's Harvest CBD products. Oliver's Harvest offers a large variety of CBD products for many uses. The product line consists of broad-spectrum CBD oils and tinctures, gummies and isolate-based Honey Stix. Oliver's Harvest customers choose these CBD products for their anti-inflammatory, anti-stress, pain-relieving and antioxidative properties. More specific-use products combined with CBD and other therapeutic agents for maximum strength may alleviate anxiety, general pain, joint inflammation, insomnia, and other symptoms. Oliver's Harvest also has a line of CBD products for pets that include tinctures, joint support, and peanut butter treats. All of these products are available on the Oliver's Harvest website.
As part of the National Salute to Veteran Patients, starting in February 2019, Coast to Coast Natural, Inc. is offering Oliver's Harvest products to US Service Members, Veterans, and First Responders across the country at a 50% discount on the full line of products, including the new Honey Stix. To show its appreciation, Oliver's Harvest invites esteemed military and law enforcement personnel to visit www.oliversharvest.com/veterans to claim and receive a promo code for a 50% discount upon verification of required identification.
*FOOD AND DRUG ADMINISTRATION (FDA) DISCLOSURE: These statements have not been evaluated by the FDA and are not intended to diagnose, treat, or cure any disease. Always check with your physician before starting a new dietary supplement program.
Source: Coast to Coast Natural, Inc.
Share: