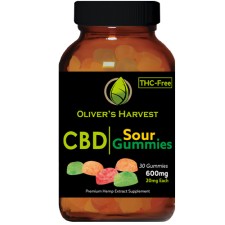 WELLINGTON, Fla., April 18, 2019 (Newswire.com) - Oliver's Harvest has released a large pack of 30 of consumers' favorite sour CBD gummies. This zesty, hempy and healthy snack provides a precise serving dosage of 20 mg of broad-spectrum CBD. The gummies contain no THC and are not risky for those who routinely undergo drug testing. While the health benefits of the gummies are noteworthy, their taste has attracted especially large numbers of loyal customers. "CBD is non-habit-forming, but I cannot guarantee that you won't get addicted to this tangy taste," said Tiffany Rodriguez, marketing manager at Oliver's Harvest. To browse our line of CBD infused gummies, visit: https://oliversharvest.com/product-category/cbd-gummies.
The number of sellers of CBD gummies in the market is growing exponentially. While the greater the choice the better, consumers need to be cautious because not every gummy administers the appropriate amount of CBD for the body. Oliver's Harvest gummies are handcrafted and infused with hemp oil, after which they are baked at Oliver's Harvest facilities in Colorado. This rigorous process ensures the exact CBD dosage for every serving. Many sellers get gummies from wholesale candy stores and spray them with CBD solutions. Such a process neither provides the proper distribution of CBD among the gummies nor ensures that any CBD remains on those gummies at all.
"It is easy to spot a sprayed gummy. If you recognize a gummy that is regularly sold in other stores, such as bears and worms, stay away from them. Such sellers commonly report the CBD dosage per jar and not per serving. Professional CBD manufacturers have their uniquely shaped and tasting gummies and certainly provide lab reports," said Jamila Mammadova, research manager at Oliver's Harvest.
What are gummies good for?
Gummies provide health benefits that CBD is so well-known for: suppression of inflammation, pain and anxiety relief, better sleep, general health support and some others. It is simply an alternative delivery system for those who do not want to take sublingual CBD tinctures. Since the process of ingestion results in a slightly reduced absorption level in the body, each gummy has a high dosage of 20 mg of hemp extract. Oliver's Harvest recommends taking one to two gummies daily.
"I give the gummies to my teenager-daughter; it helps her to focus and suppresses her anxiety at school. The fact that they have no THC comforts me; I don't want even trace exposure to any psychoactive drug for my daughter," said consumer Tiffany Rodriguez.
Aside from gummies, Oliver's Harvest manufactures a large variety of CBD products, such as Honey Stix, tinctures, pain creams, herbal supplements and pet products. The company was built on the more than 30 years of experience of the owners, which is a significant factor for consumers' trust. What makes Oliver's Harvest unique in the market is that it has its own team of farmers, pharmacists and chemists who work together to carefully develop the most effective hemp products. The customer care team is available to help people choose CBD products to address their individual ailments or to help their pets. For more information and to learn more about CBD, visit us at https://oliversharvest.com/.
Source: Coast to Coast Natural, Inc.
Share: